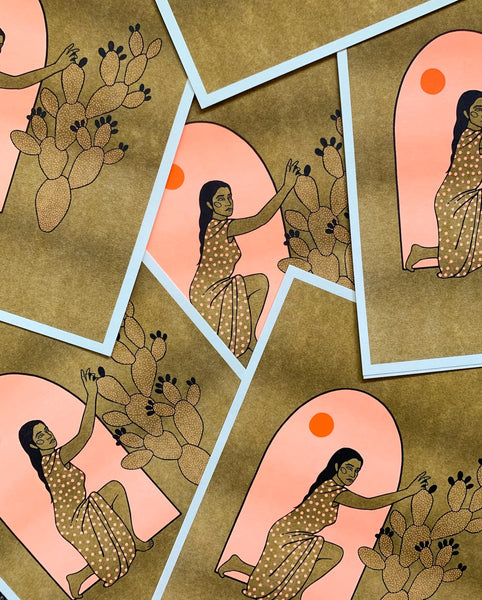 S E C O N D S ~ Nopales Art Print 8x10"
Regular price
$26.00
Sale price
$13.00
---
Slightly imperfect, but lovable
Description of issue:
Print seconds may include tire marks, uneven color or striping in pink layer
✹  ✹  ✹
Know your roots
Beautifully textured & riso printed in flat gold + peach ink, each of these delicate works celebrates the connection to earth & home
Details:
∙ Risograph Print
∙ Vibrant Peach, Orange, Black & Flat Gold
on creamy 80lb French Paper
∙ Illustration by Eradura // Printed locally
✹ Handle with care ~ Riso prints utilize environmentally friendly soy-based inks; the prints are reminiscent of newspaper ink and may smudge if over-handled.
✹ Shipping : Packaged flat in a clear sleeve & rigid mailer. Prints may be shipped separately to ensure they stay flat in transit -- keep an eye out for a separate tracking number if you have multiple items in your order
✹
 All Content ©2023 Eradura. All Rights Reserved.
---